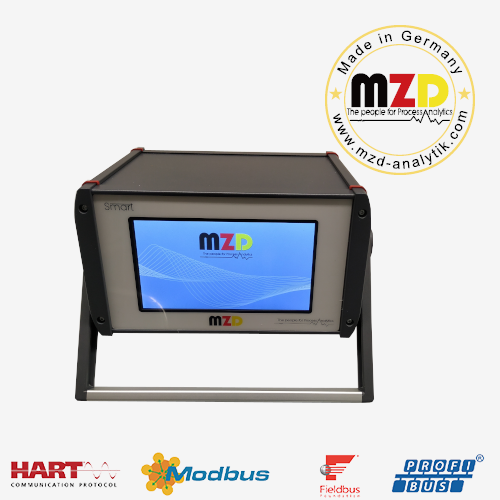 Description:
After 30 years of practical application and development, SMART series intelligent multi-parameter controllers which can be connected to different digital sensors or analog sensors, can be used for strict and accurate measurement. It can be applied to the most extreme working conditions in chemical production processes, petrochemical processes, municipal environmental protection, cement, metallurgy, papermaking, electric power, food, and pharmaceuticals.
SMART series intelligent multi-parameter universal controller has the characteristics of excellent modular bus structure, easy expansibility, high reliability and comfortable operation. Single channel can be easily upgraded to 2 channels, 4 channels, 8 channels, flexible and cost-saving!
•Gas analysis: moisture, dew point, oxygen, hydrogen, carbon dioxide, carbon monoxide, helium, argon, ozone, chlorine, total hydrocarbon, hydrogen sulfide, sulfur dioxide, nitrogen dioxide, monoxide Nitrogen, methane, benzene, flue gas analysis, etc.
•Water analysis: suspended solids concentration/sludge concentration, dissolved oxygen, scale film/biofilm, pH, redox (ORP), TDS total dissolved solids, salinity, conductivity, turbidity, free chlorine, total Chlorine, ion concentration, COD, BOD, TOC, oil in water, temperature...
•Liquid (oil) analysis: moisture, water activity, temperature...
•Solid analysis: moisture...
Controller features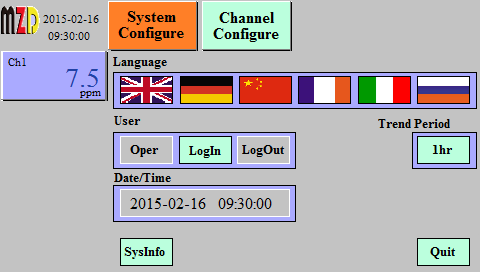 • Quick and convenient
The navigation menu contains 6 languages, which can be operated easily.
Uses M12 connector to connect with sensor, Plug-and-play.
• Process safety
7" large size color LCD touch screen, convenient and safe touch operation and debugging
Large size screen with red flashing alarm, clearly visible from long distances and in dark areas
Alarm immediately, safe the process
Using M12 connector to connect with sensor, no risk of wrong connection
• Data alarm record
Real-time data curve display
Record function for up to 6000 alarms
• Expert calibration function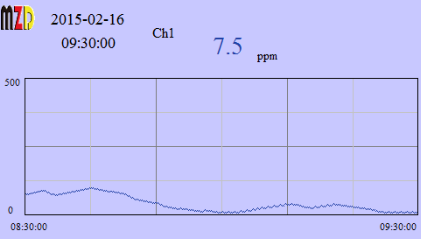 Multi-point calibration function up to 9 point
• Powerful self-diagnosis function
Built-in heartbeat monitoring function and watchdog
Monitor the status of controllers and sensors, and promptly remind customers to take necessary maintenance
High-standard hardware and software security and password protection
• Powerful control function
High(low) limit control function
Optional: Timer control(automatic cleaning) function
Optional: analog PID controller
Optional: PWM controller
• Flexible fieldbus communication functions for IOT4.0
Optional fieldbus MODBUS, HART, Foundation Fieldbus FF, PROFIBUS PA, PROFIBUS DP, etc.

Technical parameters (Controller)
Display

7" industrial color touch screen

Language

6 languages

Diagnosis function

Sensor self-diagnosis

Flow monitoring

Heartbeat monitoring

6000 alarm record

Analog output

4~20mA,maximum load 500Ω

(Up to 3 Channels)

Alarm

Relay(2A), freely set alarm

(Up to 2 Channels)

System alarm

Control function

Optional Timer controller

Optional PID analog controller

Optional PWM controller

Calibration

Expert calibration function

Multi-point calibration function up to 9 point

Communication

RS485 MODBUS RTU, HART,

Foundation Fieldbus FF,

PROFIBUS PA, PROFIBUS DP,

MODBUS ETH, etc

Power

80~264V AC,1A

or 19~28V DC,3A

Ambient temperature

-10~55℃

Wall-mounted

(1~2Channels)

7" color touchscreen

323x237x172mm

IP65,option Ex d IICT6

Portable

(1~2Channels)

(Built-in lithium battery)

7" color touchscreen

IP40 250x144x184mm

IP40 357x144x184mm

IP67 420x325x180mm

19" Rack

(1~6Channels)

7" color touchscreen

IP40 483x133x238mm